© Anke Neugebauer
© Anke Neugebauer
© Anke Neugebauer
© Anke Neugebauer
© Anke Neugebauer
© Anke Neugebauer
© Anke Neugebauer
© Anke Neugebauer
© Anke Neugebauer
© Anke Neugebauer
© Anke Neugebauer
© Anke Neugebauer
Studiobühne

Premiere

08.04.2018
Homo Empathicus
A theatre project with youngsters and young adults // by Rebekka Kricheldorf
Rebekka Kricheldorf's new play "Homo Empathicus" is a parody of a seemingly perfect society. The characters have names like "Study Being", "Teaching Being", "Healing Being" and "Business Person 1, 2 and 3" and "Longer-Living Being" and "Shorter-Living Being" − and they all live together peacefully and on equal terms. Everyone, including "Hygiene-Specialised Being" and "Nourishing Being", gather in an non-hierarchical yoga course where they engage in eloquent and polite conversation, debating and accepting this or that opinion. The people in this world are not allowed to express negative emotions − even death is referred to euphemistically. Kricheldorf's characters lead politically correct lives, drink clear water, eat quinoa quiche, and feel good about it. Until the moment a theatre performance provokes an excess of violence. Their civilised, intellectual interaction and the imposed peace of society are thrown out of balance.
"A map of the world that does not include Utopia is not worth even glancing at, for it leaves out the one country at which Humanity is always landing. And when Humanity lands there, it looks out, and, seeing a better country, sets sail. Progress is the realisation of Utopias," said Oscar Wilde in 1891.
Angelika Andrzejewski, theatre pedagogue and new director of the Junges DNT, invites young people who are interested in acting to examine the possibilities and limits of our coexistence and to think about utopias.
For more information about this theatre projects for youngsters and young adults, visit (Link is following)

Stage direction: Angelika Andrzejewski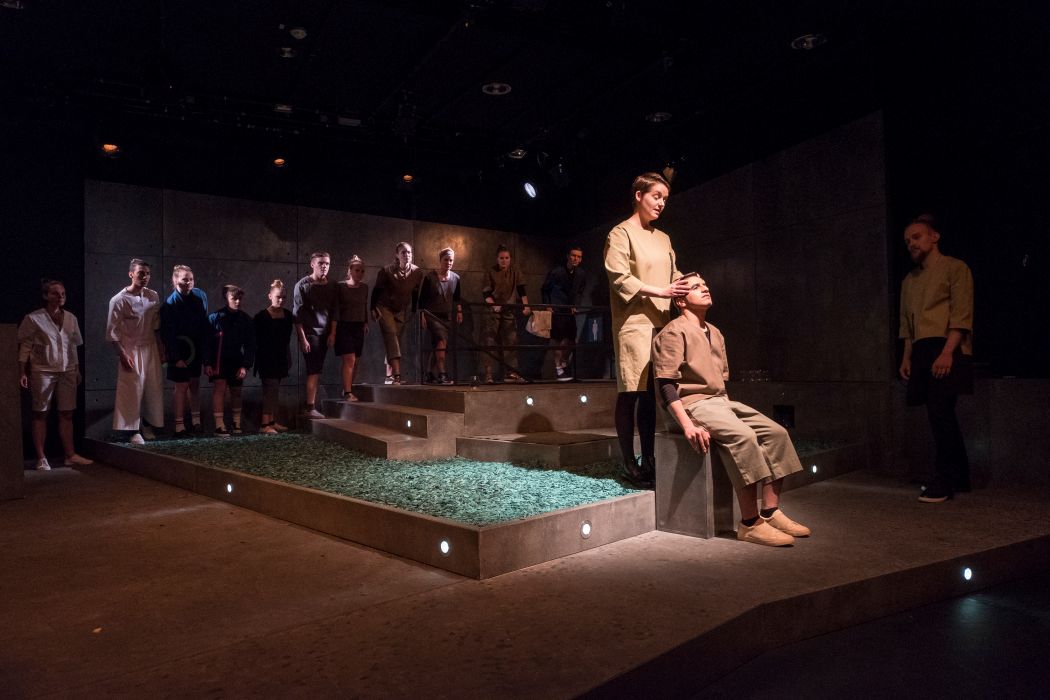 Angelika Andrzejewski / Bastian Heidenreich (Regie)
Alexander Grüner (Bühne und Kostüm)
(Dramaturgie)