TOGETHER TO THE THEATER
If accompanied by a child or adolescent (up to the age of 18), an adult pays half of the regular admission price on the selected dates, children and adolescents pay €6.
So 29.09.2019, 16.00 Uhr
HOFFMANNS ERZÄHLUNGEN
Oper of Jacques Offenbach
Sa 30.11.2019, 18.00 Uhr und
Mi 25.12.2019, 16.00 Uhr
A CHRISTMAS CAROL
Christmas Carol of Charles Dickens
So 08.03.2019, 18.00 Uhr
ROMEO UND JULIA
Tragedy of William Shakespeare
So 24.11.2019, 16.00 Uhr
URFAUST
Schauspiel of Johann Wolfgang Goethe
Mo 23.12.2019, 15.00 Uhr
HÄNSEL UND GRETEL
Märchenoper of Engelbert Humperdinck
Mo 01.06.2019, 16.00 Uhr
WEST SIDE STORY
Musical of Leonard Bernstein
Tickets with this family discount can be purchased directly at the box office. We will be happy to advise you!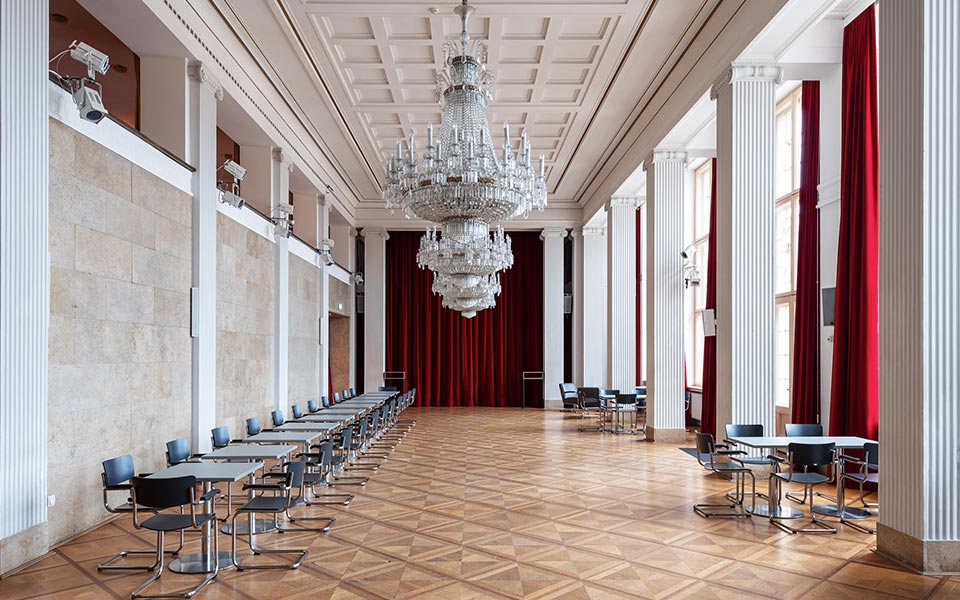 KONZERTSAAL IM FOYER
Glanzstück des 1908 neueröffneten Hoftheaters war und ist heute noch der Licht durchflutete klassizistische Foyersaal im ersten Stock des Großen Hauses, ein Ort für ungewöhnliche Inszenierungen, Matineen vor Premieren, ausgesuchte Lesungen und durchaus hitzige Gesprächsrunden.
Den Mitgliedern der Staatskapelle dient er darüber hinaus regelmäßig als intimer Konzertsaal für Kammerkonzerte, in denen die Musikerinnen und Musiker aus nächster Nähe zu erleben sind.